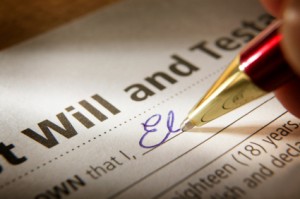 Thinking about and planning for your death is never fun or easy, but it is the responsible thing to do for those you love. When someone in Texas dies without a will, it is called dying "intestate." Dying intestate can create a complicated situation for the loved ones you leave behind. Along with grief, pain, and sorrow, the important people in your life will be left questioning and possibly fighting over what your last wishes might have been.
Imagining anyone else raising your children is gut wrenching, but it's even harder to imagine someone who you wouldn't have chosen taking on the most important role of your life. If you do not execute the proper estate planning documents, which designate the guardian of your children and how they will be provided for, then your children could end up in a situation you wouldn't want for them. Failing to have a proper estate plan in place could ultimately result in a judge or jury deciding on a guardian for your children.
No one is guaranteed tomorrow. Accidents happen and healthy people can suddenly become very sick. Give yourself the peace of mind that comes with having an estate plan in place that will guide those you leave behind when you are no longer here to make the important decisions.
The Law Office of Elisse V. Woelfel can assist you with drafting your first will or updating an existing one.
Call Today for a Free Consultation:  469.443.6040